We originally wrote this report in February and March of 2020. At that time, it was not yet obvious that the impact of the COVID-19 pandemic would be as great as it has become. Though we included a brief mention of the pandemic and the increased uncertainty it caused in the report at that time, we have since reevaluated our projections.
Now, in early May, 2020, it appears that the macroeconomic impact of this disease will be far larger than it at first appeared. As the reach of the SARS-CoV-2 has circled the globe, manufacturing, distribution, and user demand have all shrunken considerably. As we write this update, early in May 2020, the impact has been significant, with a certain recession and possibly a worldwide depression looming this year.
Manufacturing around the world slowed almost to a complete stop, including in the electronics factories in Asia. This has been compounded by significant supply line and logistical problems. In addition, end users around the world are addressing their own economic issues, which will cause demand for smartglasses to be significantly lower than initially expected for the next 2-3 years.
However, we also see some potentially good news. Work on testing, treatments and preventative measures have significantly slowed the spread of the virus in Eastern Asia, Europe, and North America. This has enabled governments in recovering countries to restart their economies. Manufacturing, especially in Eastern Asia, is coming back on line.
We may be seeing a permanent reduction in work-related travel and meetings. These meetings may be replaced by xR meetings, which already supplement the video conferencing that has boomed in the past months. As more people work remotely, more ideas for enabling their work with virtual and augmented reality have arisen. We expect a near-term increase in demand for remote assistance, telemedicine, online entertainment, and other applications that reduce interpersonal contact. Many of these concepts will stick around after the pandemic is over.
We have reduced all of our growth estimates down by 35.3% in 2020 to 10% in 2024. We believe the sector will have fully recovered by 2025. However, total units sold to that point in time will be significantly lower than we first projected,. This slowing will carry through to the end of the decade, as it will take time for economic recovery and demand to grow. In 2030 we now forecast sales of 22 million units. Cumulative sales for the decade are expected to be down 16.6%.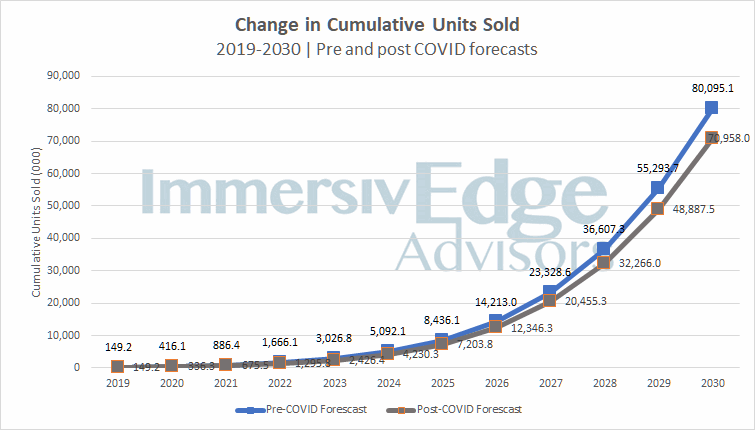 Change in cumulative smartglasses sold through 2030 due to COVID-19 pandemic.
The tables and charts in The Markets for Smartglasses section have been revised to reflect updated information and what we believe the impact of this COVID-19 pandemic will be on the AR and Smartglasses sector. If necessary, we will revise this section again as the economic trends become more clear in the next few months.