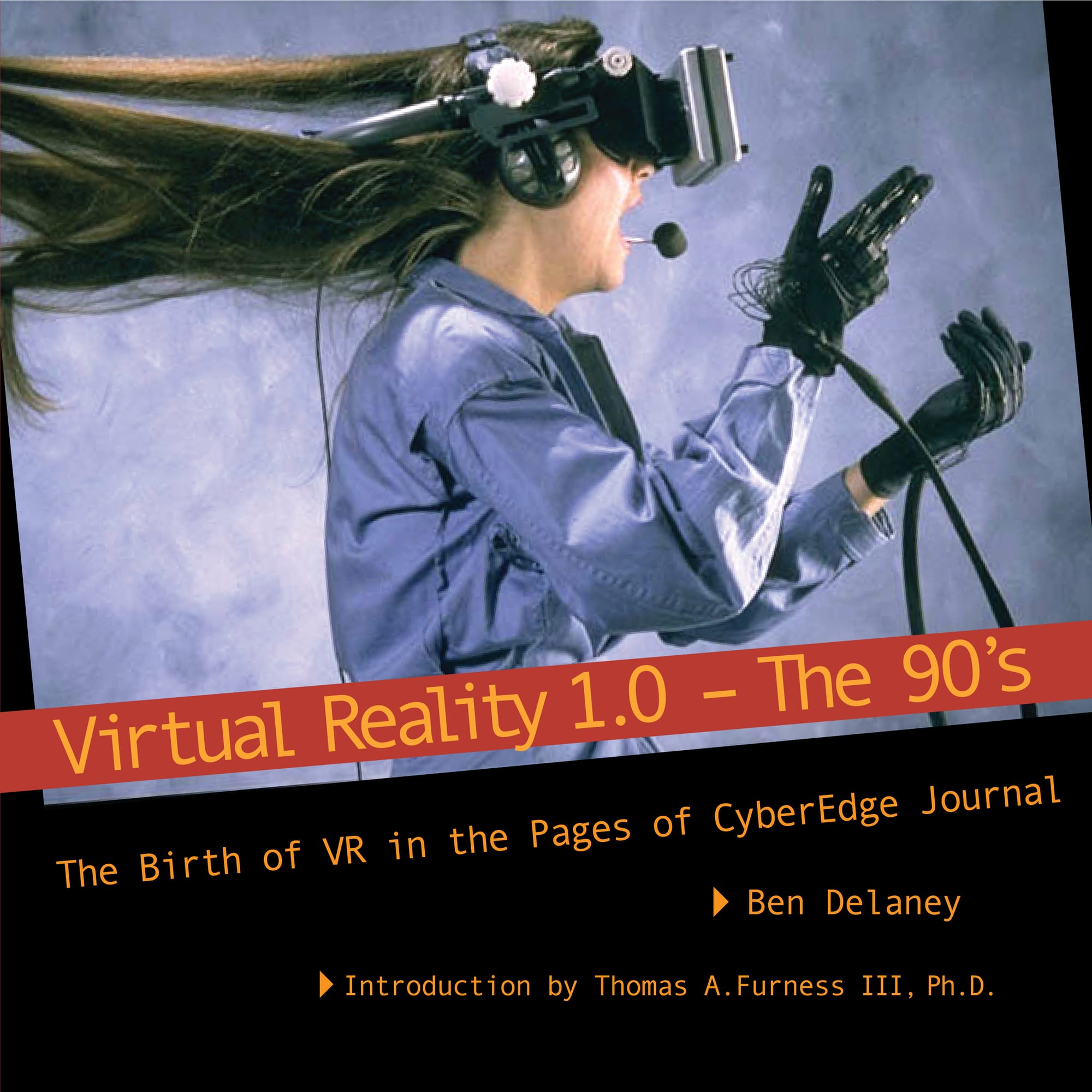 Did you ever wonder who built the first head-mounted display? Who first detailed a coherent theory of Cyberspace? Who wrote about cybersex and the challenges it creates? Who worried about addiction to VR? Did anyone ever cure cyber-sickness?From 1991 to 1996,
CyberEdge Journal
covered these stories and hundreds more.
CEJ was read in more than 40 countries by thousands of VR researchers, developers, vendors, and aficionados. Appreciated for its "No VR Hype" attitude,
CyberEdge Journal
was the publication of record for the VR industry in the 90's. Author Ben Delaney was the Publisher and Editor of
CyberEdge Journal,
and was one of the most respected commentators and presenters in the field. He went on to publish the industry-defining multi-year market study,
The Market for Visual Simulation/Virtual Reality Systems
until 2004.
Now that VR is enjoying a renaissance, it's time to understand where it came from, and avoid making the same mistakes that were made in the first golden age of VR, the 1990's. It's also a good time to remember the excitement and sense of adventure that characterized those time.
Virtual Reality 1.0 – the 90's
describes not just some of the hot topics of VR, but also the origins, issues, and solutions that were chronicled in the pages of
CyberEdge Journal.
Complemented by over 100 photos and drawings, there is a surprisingly contemporary feel to these old articles. In addition, more than a dozen VR pioneers have contributed new reminiscences of their work in VR. Another treat, the book is introduced by one of the acknowledged leaders of VR research and industry, Dr. Thomas Furness, Founding Director of the world-famous Human Interface Technology Laboratory at the University of Washington in Seattle.
See a video profiling Dr. Furness by clicking
here.
See Ben Delaney explaining VR on
Newton's Apple
by clicking
here.
Click
here
to read a preview, see the table of contents, and buy the large-format book, author-signed book, or Kindle edition
ISBN: 978-1-5136-1703-9, Pages: 440, Chapters: 85, Illustrations: 88, Indexed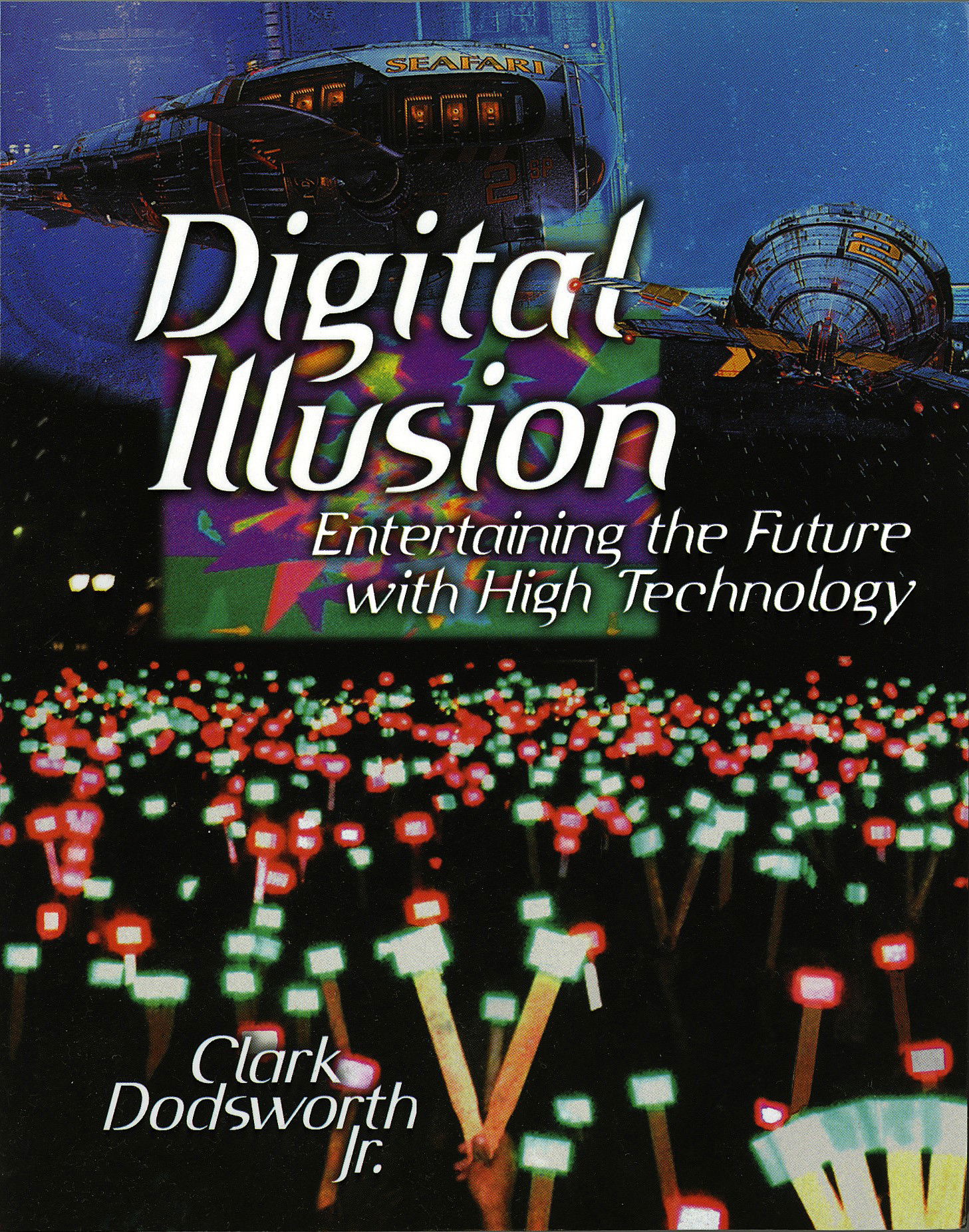 Digital Illusion
explains that by combining traditional entertainment skills with advanced tools and methods in computer graphics and image processing, the producers of games, multimedia networks, virtual reality environments, and theme parks are reshaping one of the largest industries in the world. This book details the design and implementation of computer-based entertainment, based on Clark Dodsworth's hands-on experience.
Dan Sarto said in his contemporary
review
, "
Digital Illusion - Entertaining the Future with High Technology
is a tightly woven compilation of 35 chapters covering critical aspects of what Dodsworth refers to as the 'entertainment beast and its future.' Each chapter is penned by an industry expert, and then edited and crafted by the author into one comprehensive volume like little gems fashioned together into a magnificent tiara. Digital Illusion marries intelligent and descriptive narrative with detailed facts and explanations. This book has something for everybody, and should appeal to a wide audience. Newbies and wannabees can find solid fundamental descriptions about core concepts, tool sets, and practical uses of key technologies. Expert technologists can find fresh perspectives on where this 'stuff' came from, where it is today, and where it's going tomorrow."
Paperback, 545 pages.
Digital Illusion
may be found on Amazon and eBay.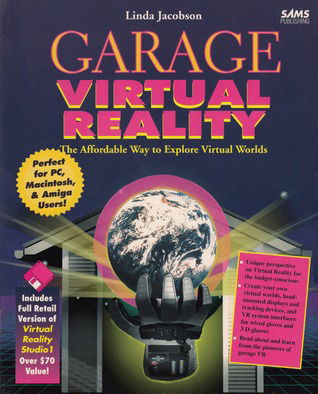 Published in 1994,
Garage Virtual Reality
p
resents and explore information in a whole new way.
Linda Jacobson's
Garage Virtual Reality
captures the enthusiasm and insights of the early virtual reality days and maps the course low-end VR has since taken. It presents a neat and tidy introduction to VR (high- and low-end) and covers all the systems and software available to the home experimenter. It outlines the conceptual steps involved in creating a virtual world, as well as the hardware and software you need to get there. The PC-compatible disk that comes with the book includes a full working version of Virtual Reality Studio 1, a demo version of Vistapro 3, and source code for programming the Power Glove and other devices.
This book was a big hit when it came out, and a usable VR systems cost close to a million dollars. It's fun to read both as history and as an example of how much people wanted to experience VR in the 1.0 generation.
Paperback, 250 pages.
Garage Virtual Reality
may be found on Amazon and eBay.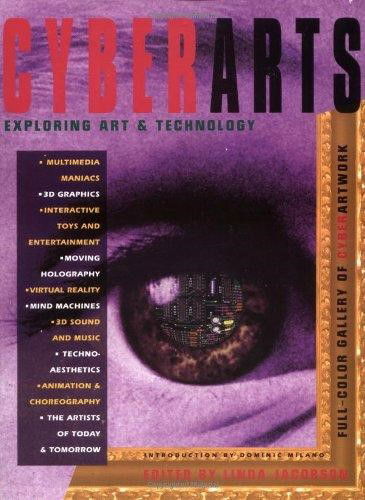 Linda Jacobson edited
Cyberarts: Exploring Art and Technology,
which described the exciting and mysterious synergy of art and technology that took place in the early '90's. It describes the then-new frontier in creativity, where the worlds of science and art met. Computer technologies, visual design, music and sound, education and entertainment merged to form a new artistic territory of interactive multimedia.
This diverse collection of essays, articles, and commentaries investigates the creative dimension where technologists and artists apply emerging interactive, multimedia tools and techniques to: (1) Music; (2) Graphics; (2) Animation; (4) Publishing; (5) Video; (6) Theater; (7) Theme Parks; (8) Toys and Games; and (9) Virtual Reality. Multimedia terminologies are highlighted in the text, with definitions and additional information provided in the margins of the text. A gallery of color images is included. An appendix of sources and resources and an index concludes the text.
Paperback, 312 pages, ISBN: 0879302534,
Cyberarts: Exploring Art and Technology
may be found on Amazon and eBay.
Contact us today
Contact form,
510 419-0800,
info@CyberEdge.pro.