By Brian Blau
One of the exciting aspects about joining ImmersivEdge Advisors is working on super interesting AR/VR projects from a wide variety of market segments; from vendors offering next-gen user interfaces to enterprises who want to offer the best employee and customer experiences.
Here is a brief overview of how our vendor and enterprise clients navigate the ever-changing AR/VR landscape to find the highest return on investment in immersive technology and its unique UX capabilities.
As a business leader, your organization requires quality technology and reliable platforms. Fortunately for you, the hardware, infrastructure, and software architectures in AR/VR are rapidly converging on the required level of quality and reliability at a viable cost.
But, while AR/VR may appear to be useful to your organization, it's not a certain solution. In many scenarios, starting with new or emerging technologies isn't an acceptable risk even if you believe that AR/VR can and should be an option for your project. A thorough assessment of the objectives of your project and the ways that immersive technology can reduce costs, and/ or add benefits is essential. That's where ImmersivEdge can help.
How do businesses respond? What if your company has already invested in immersive tech but is not reaching the project goals? What if you are about to start your first project, and are concerned that AR/VR can't help or is troublesome. What if you hear that your competitors have made a successful xR implementation? How do we navigate this complex and changing landscape of functionality?
The first step is understanding your company's immersive technology maturity stage (Experimental <—> Optimized) and your overall goals for it in your business. Once there, do you confidently know your next steps?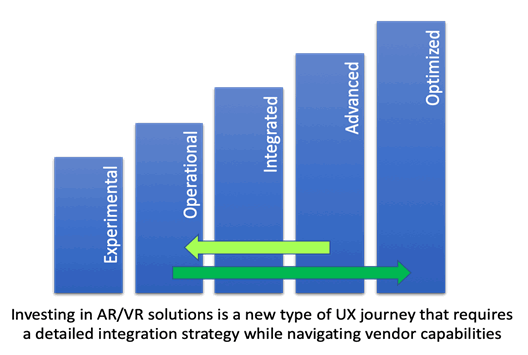 It's challenging to make the leap from using AR/VR in experimental projects to deployable tools that enable new employee productivity, or new products that deliver better customer experiences. Core components, such as HMDs and their software UI's, still have limitations. Depending on the ambitiousness of your goals, being cautious and pulling back and restarting at a later time with better quality devices may be the smarter path.
Your overall strategy should begin by understanding the market players, individual devices, and business solutions, and how to best use them. We can help you with this. When you have that, you can work on the two other key components: Your ultimate goal and pace of investment.
My own immersive journey started 30 years ago in simulation-based training; I know that when properly employed, immersive tools and methods can be a worthwhile investment in many scenarios. I've seen the results.
I've helped many businesses understand how best to leverage immersive tech in enterprise and for consumers. The one common trait among all of them is the belief that immersive tools and experiences are an increasingly significant part of how people interface with computers and each other.
ImmersivEdge Advisors is an all-star team that has a deep understanding of the AR/VR market and how businesses integrate immersive technologies for value-added returns. Contact us at +01 510 419-0800, email by clicking here, or contact us through our website by clicking here for a no-obligation discussion of your project objectives and constraints. We look forward to talking with you.