by Ben Delaney
Today's (June 17, 2020) news that Bose has discontinued promotion of their Frames AR glasses is a big disappointment to me. While I never thought this was going to be a mass-market product, I was impressed by the audio only AR system that Bose developed. Their system was set up to provide navigational help and other cues about the environment strictly through voice and other sounds. While I never got to try the system myself, I heard from folks who had used it that it worked quite well and that it provided a surprisingly useful augmentation to the real world.
I think this was a good experiment and applaud Bose for making the investment to develop and market their Frames products. And by the way, as of today, you can still buy the Bose Frames, however they no longer talk about the AR capabilities and it's unclear as to whether or not they've turned off the AR. Gizmodo and several other online sources today (June 17, 2020) reported that Bose has shuttered their AR division, and that several of the key people have left the project and the company. A Bose spokesperson told Protocol that "Bose AR didn't become what [it] envisioned," and that the company found its AR program was more suited for "specific use cases, not for broad, daily use." Other reports indicate that AR support from existing devices may be turned off in a few weeks.
A developer who had invested a lot of resources developing for Frames summed up the situation in one word. "Furious! I spent 200-300 hours building one audio environment, and now Bose tells that their SDK will stop working on July 14th, and we have nothing we can ship."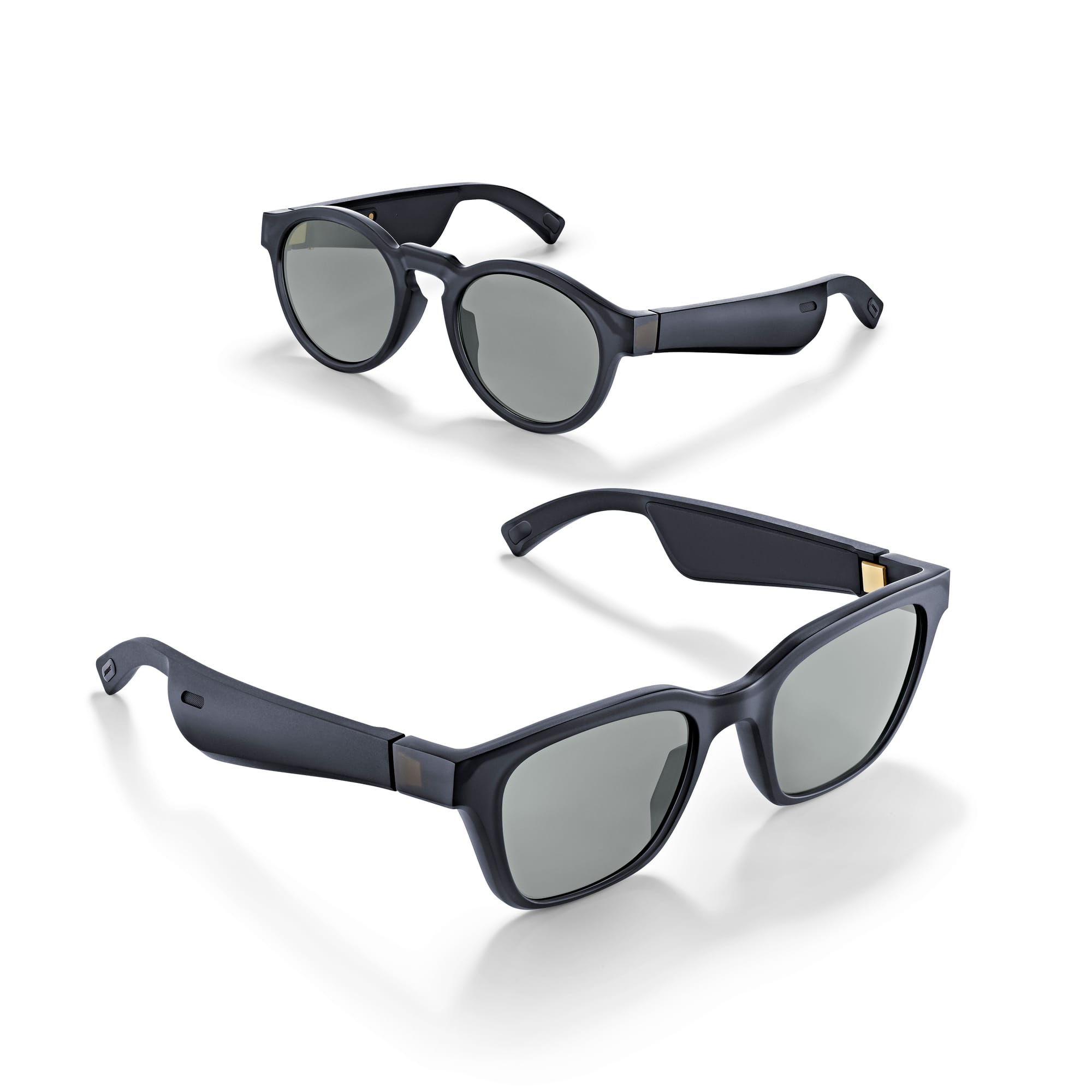 Bose Frames come in two models, each weighing just 45 grams. In the front is the Alto, behind is Rondo.
Priced at $199.95, the Bose Frames are still available in two models; Rondo and Alto. And while the webpage for Frames is still available at this address: www.bose.com/en_us/products/frames.html, there is no mention of AR on the page. A search for "augmented reality" on the Bose site reveals seven products, three of which include the term augmented reality as part of their description. The description for Bose noise canceling headphones includes this: "Bose Noise Cancelling Headphones 700 deliver everything you expect — and things you never imagined possible. …And then there's Bose AR*, a first-of-its-kind audio augmented reality platform that makes astonishing new audio experiences possible."
I've long been a fan of spatialized audio, and this is one of the features that Bose AR enabled. Especially in a virtual environment, spatialized audio provides level of realism that stereo audio is unable to offer. In real life, our ears tell our eyes where to look. We can hear all around us in a complete sphere, including sounds that sometimes seem to come from within our bodies. Most virtual and augmented reality experiences do not duplicate spatialized sound in a satisfying way. 3D audio technologies been around for a long time. It's mature and works very well. Bose used it well and I'm sorry to that this experiment didn't turn out better for them. However, I would be very surprised if they aren't soon working deals with headset manufacturers to add Bose AR to their products. Doing that will provide a more satisfying and useful augmented or virtual reality experience to the user. As we discussed in our recent Smartglasses Roadmap analysis, we at ImmersivEdge believes that 3D audio is going to be an integral part of Smartglasses as they emerge as the leading wearable computing accessory in the late 2020s.