ImmersivEdge Advisors has revised their breakthrough report on smartglasses to take into account the economic impact of the COVID-19 pandemic. Due to the manufacturing slowdown, materials shortages, distribution issues and reduced demand, ImmersivEdge has reduced its forecast of unit shipments by 35.35% in 2020, with smaller reductions in output continuing until 2025. The new forecast shows the smartglasses hardware marketplace reaching 1.13M units annually by 2023, down from the pre-COVID-19 projection of 1.36 M units.
Smartglasses revenue (hardware only) will grow to $4.5 billion by 2025 and $30.1 billion by 2030. This is nearly $4 billion less than expected prior to the COVID-19 pandemic. Software and services will add considerably to that market value. By 2030, annual sales of smartglasses will reach over 22 million units annually.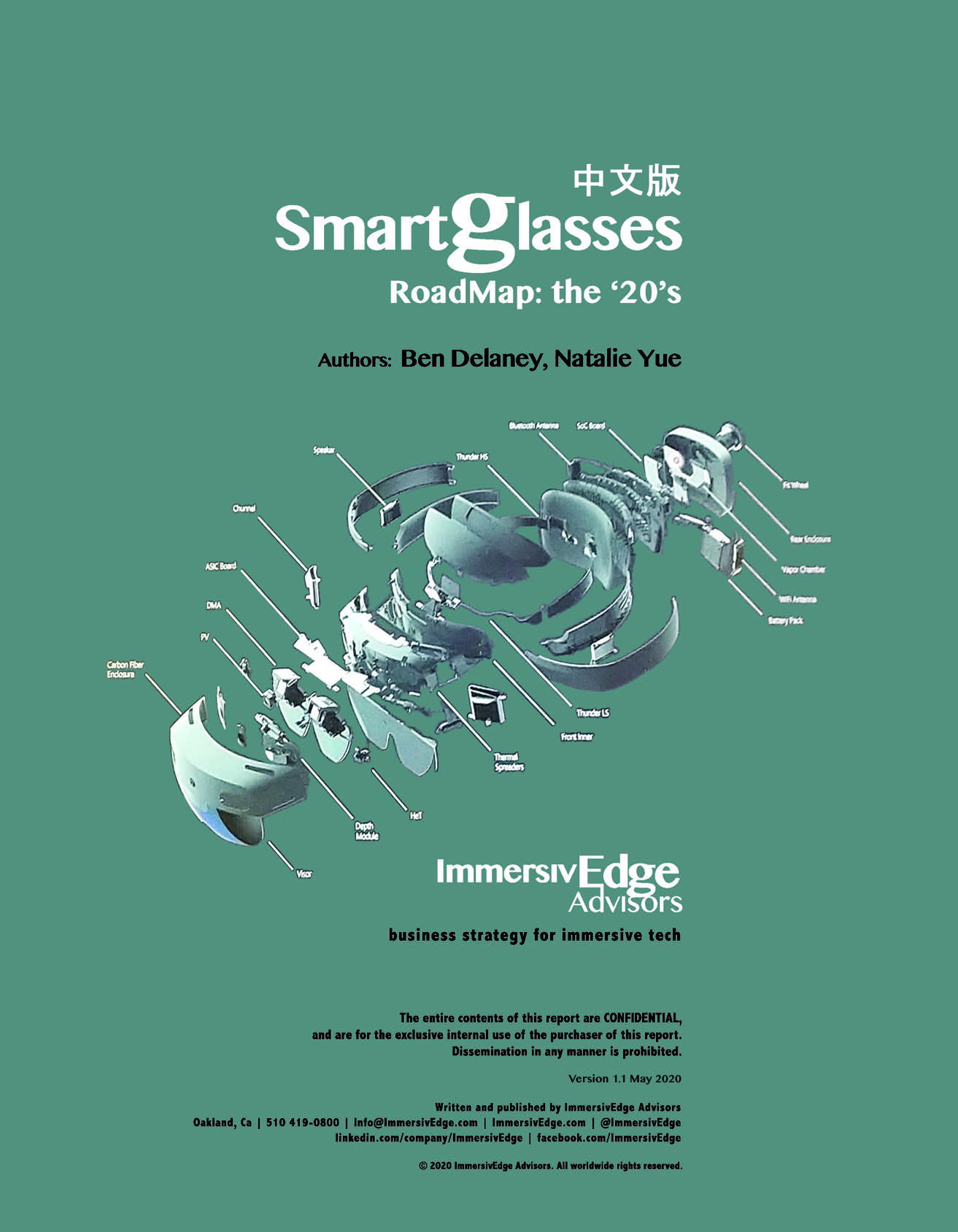 Ben Delaney, ImmersivEdge Advisors' CEO and lead author of the Smartglasses Roadmap, told us, "This is the first in-depth look at the long-term prospects for this new technology, which enables hands-free Augmented Reality. While the COVID-19 pandemic will have a major impact on the sector, we project that the smartglasses industry will be fully recovered by 2025. Though total shipments will be less than we anticipated prior to the pandemic, smartglasses will largely supplant smart phones and smart watches by the end of the decade."
Augmented Reality is technology that overlays computer-generated images on the real world, as recently popularized by Pokemon Go. Smartglasses are sensor-laden displays for Augmented Reality that use data about the real world and the user's intentions, actions and preferences to provide valuable information.
ImmersivEdge Advisors forecasts that smartglasses will replace smart phones as everyday electronic assistants for millions of people by 2030. Smartglasses will be a disruptive technology impacting almost every aspect of work and daily life.
Some of the world's biggest companies are working on smartglasses technology. Apple, Facebook, Lenovo, Panasonic, Samsung, Texas Instruments (TI) and many others have hinted at or revealed plans to deliver sleek, stylish glasses in the next few years. Already, Bosch, Bose, Epson, North, nReal, Qualcomm and several other companies have shown products or prototypes with varying levels of functionality.
Smartglasses Roadmap–the 20's looks closely at applications in Healthcare, Emergency Response, Manufacturing, Maintenance, Training, Logistics, Military, and Entertainment/Personal sectors and at 25 companies that currently lead the market. It concludes with recommendations for vendors, end users, and investors.
This report is based on original in-depth research, analysis of public statements from companies in the sector, and personal insights from 14 business executives, innovators and thought leaders in this market. The report includes market size and revenue projections, overviews of key players, descriptions of many application areas and analysis of the technology issues that may challenge manufacturers.
All purchasers of the original report will receive this update with no additional charge.
ImmersivEdge Advisors' Smartglasses Roadmap was authored by Ben Delaney, CEO and Chief Analyst, and Natalie Yue, Chief Data Analyst. Smartglasses Roadmap – the 20's, v1.1 will be published on May 9, 2020 in English and Chinese. The 65-page report may be purchased at https://www.immersivedge.com/purchase-reports. For more information, contact ImmersivEdge Advisors at info@ImmersivEdge.com or call +1 510 419-0800.