By Ben Delaney
Like a celebrity who needs no introduction, I don't need to tell you that this has been a weird year in xR. There haven't been anywhere near the number of announcements one would have expected a year ago, and those that have been made have largely been yawners.
That holds true for new head-mounted displays (HMDs). The big news this year? A new version of the Oculus quest intended for home users, with an appealing price point and underwhelming specs. A new HP Reverb with better specs and a less-appealing price point. A new model from Vuzix with good specs and a good price, for a limited business market.
First a caveat. This is the first time I have written a review of an HMD without actually wearing the system. Unfortunately, being in the midst of a pandemic has made that impractical, if not impossible. So, I am reporting from an interview with the Product Team at Varjo (pronounced var-yo), and from their press materials. Let me point out that I have worn all three of their previous models, and they, to use a technical term of art, blew my socks off. The folks at Varjo have never exaggerated anything when speaking to me, and they haven't needed to. For my money, Varjo's headsets are the best in the world.
Today, Varjo upped the ante once more. The specs for their two new systems keep Varjo several steps ahead of their closest competitors. Their already impressive headsets, have gained a number of appealing features. But what may be most surprising is that they have reduced the price, by half, for both of their professional HMDs, the VR3 and the XR3.
Varjo's two new models have wider field of view, bigger high-res viewing areas, improved tracking of eyes, hands, and position, an improved head-mounting system, and automatic interpupilary distance (IPD) adjustment.
Let's start with what I have always felt was Varjo's biggest competitive advantage – the best display I have ever seen in a head-mounted display system, now with even better specs in the VR3 and XR3 systems. What they call the "Bionic Display" provides a 115° horizontal field of view at a 90 Hz refresh rate. The high-resolution Focus Area provides a stunning 70 pixels per degree (PPD), and has been enlarged to 27° x 27°. For comparison, this is approximately the PPD of a 50" 4K TV viewed from 53 inches away. Their earlier displays had a Focus Area of 26° x 16° and 62 PPD. The larger peripheral display provides 30 PPD. Edge blending between the Focus Area and the rest of the display has been improved, making that border virtually invisible The full display is 2880 x 2720 pixels per eye, while the high-res focus area displays 1920 x 1920 pixels per eye. For comparative purposes, the Oculus Quest 2 provides a total of 1832 x 1920 pixels per eye.
Both of the new Varjo models include a new, three-point mounting system that is claimed to greatly increase comfort and continuous use time. The folks at Varjo tell me that clients have been wearing these systems for two to four hours with no discomfort. In fact, they tell me that users have forgotten they are wearing the device. Certainly the reduction in weight also helps – the VR3 weighs in at 558 gm and the XR3 at 594 gm. Both systems include the new, automatic IPD adjustment features, which can accommodate for interpupillary distances from 58 to 72 mm.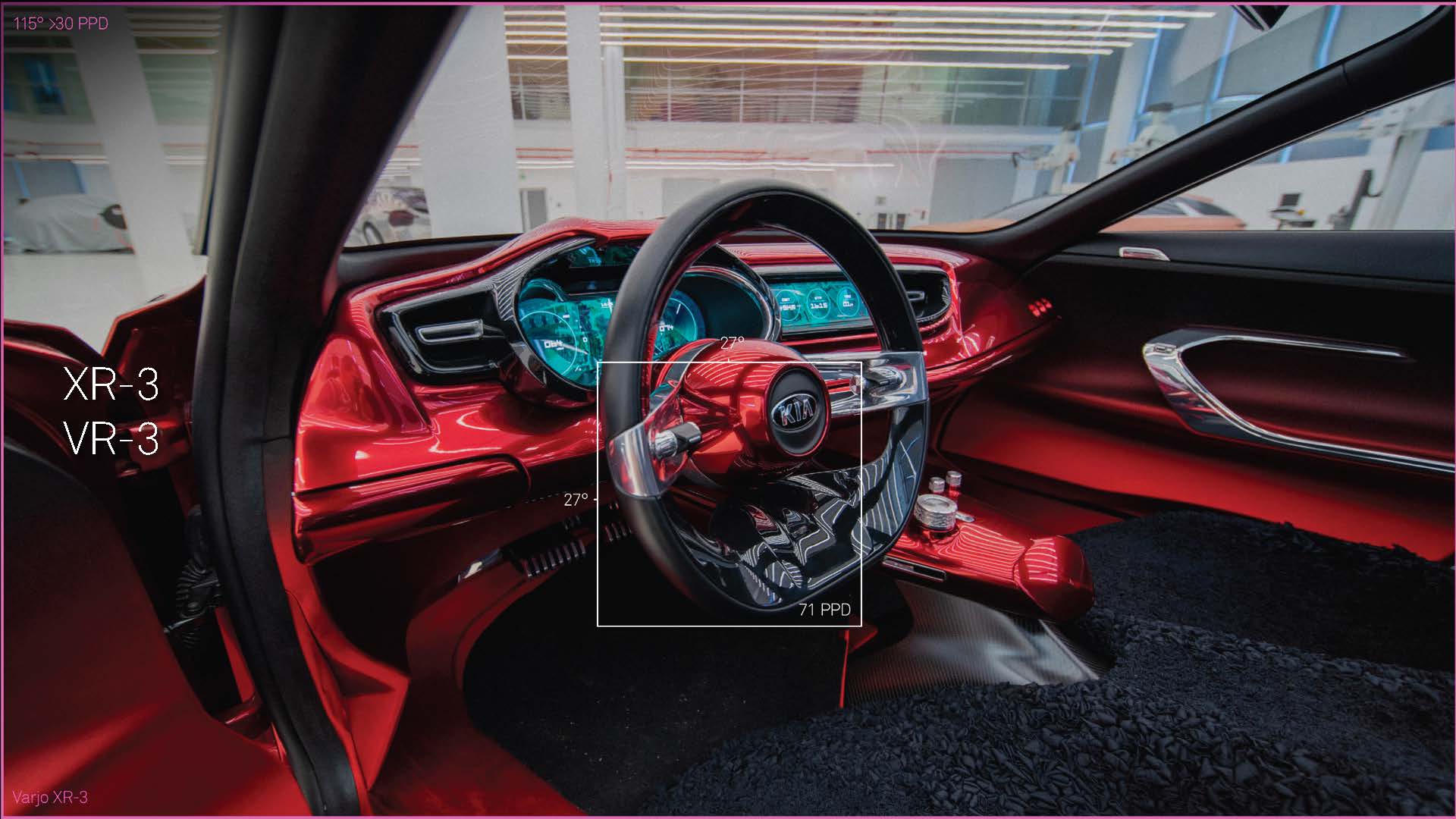 The Varjo VR/XR3 display is wider, higher resolution, and with a larger very-high
resolution Focus Area than previous models.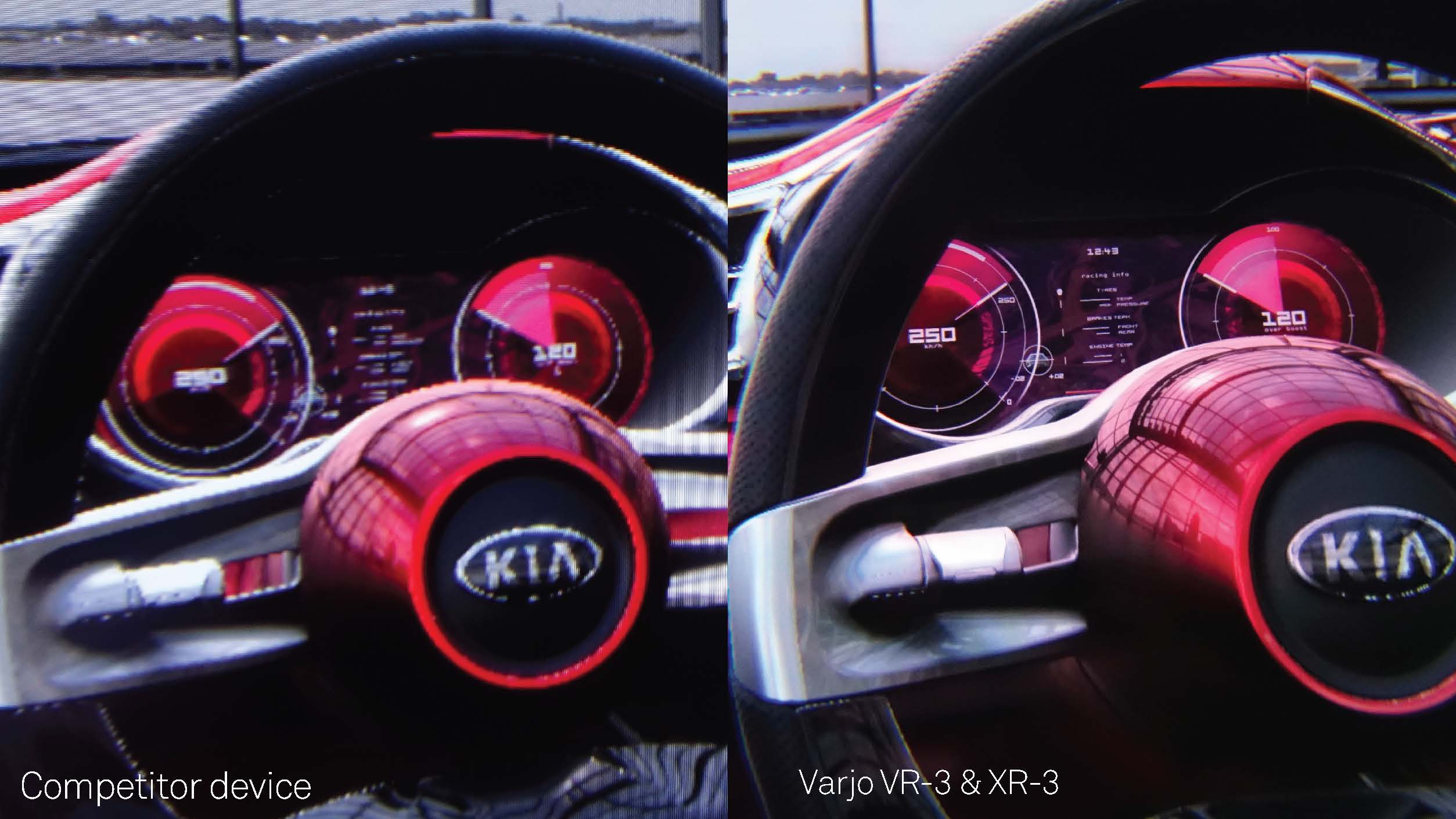 The Varjo VR3 (right) compared to the Valve index. The difference in image quality is obvious.
Varjo's XR3 adds two low-latency 12 megapixel cameras, operating at 90 Hz, to the front housing, along with a LIDAR system and RGB depth camera.
Both systems include 200 Hz eye tracking with one-dot calibration. They also feature both generation-2 SteamVR tracking and proprietary inside-out optical tracking, as well as Ultraleap Gemini hand tracking.
The VR3 and XR3 are both supported by Unity and Unreal software, as well as many specialized design applications.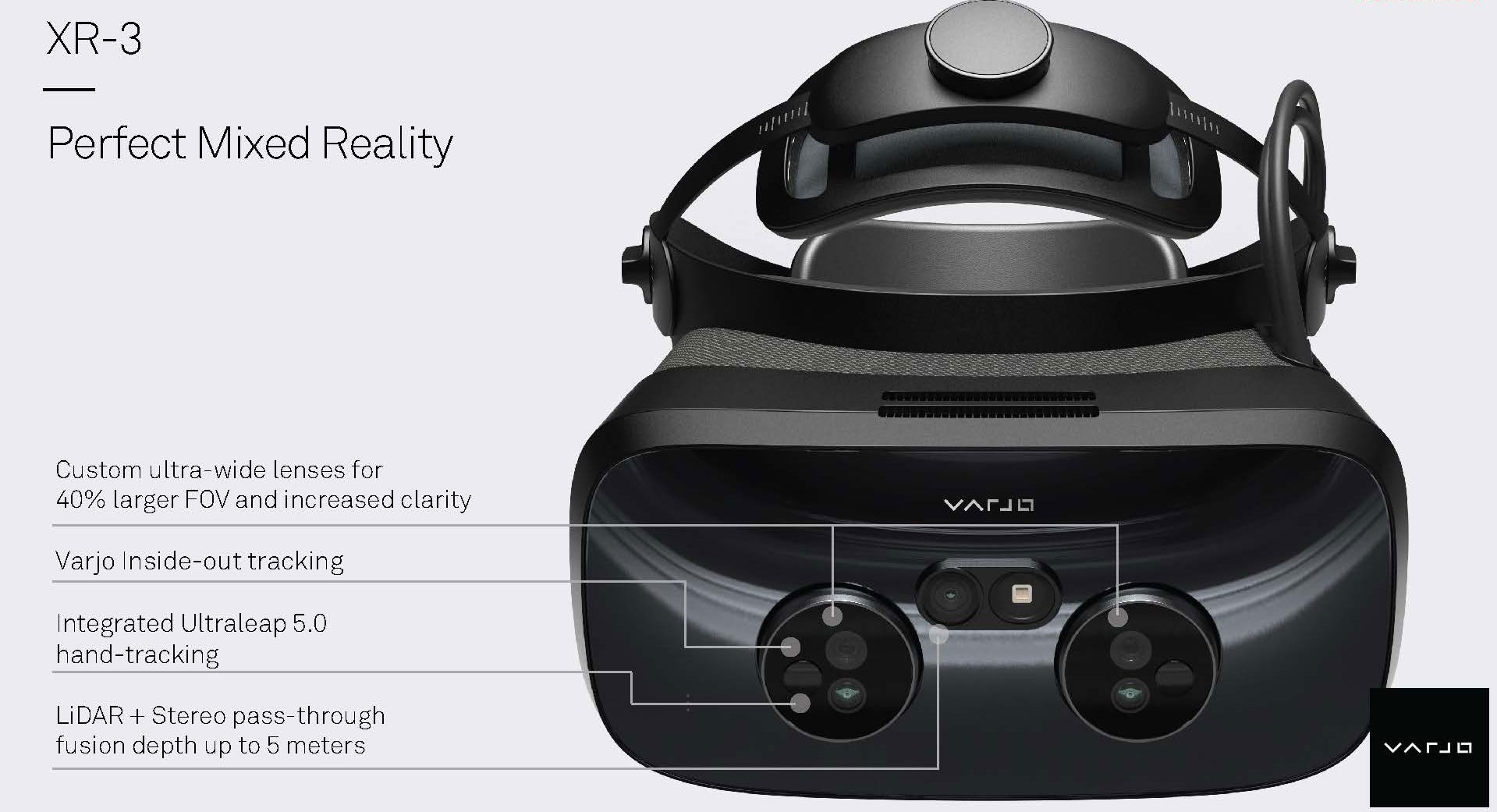 The XR3 includes a full load of sensors and trackers for highly-realistic AR experiences.
Varjo has partnered with Volvo, Lenovo, Kia, Boeing, Autodesk, and many other enterprise partners in the development and testing of the new HMDs. However, they are keeping smaller enterprises in mind as well, reducing prices by about half to make the VR3 or XR3 more accessible to organizations of any size.
The Varjo VR3 costs US $3,195 plus a $795 support contract. The XR3 comes in at US $5,495 and is paired with a $1,495 support contract. Ordering opened today, with delivery expected in the USA in 8-12 weeks. For more information, contact Helsinki, Finland-based Varjo at varjo.com