by Clark Dodsworth
At Ground Zero of Out of Home Entertainment, the IAAPA (International Association of Amusement Parks and Attractions) trade show for theme parks & family entertainment centers (Orlando, Florida, Nov. 18-21 2019), all the proven leisure attractions are doing fine. And after ~5 years of mostly ill-considered attempts at out-of-home entertainment VR, the results are in — and bimodal, as I projected in 2014. It seems IAAPA hasn't yet reached Peak VR.

Mode A: déjà VRu – Haven't I seen this before?
I didn't keep a tally, but it seemed that more small booths than ever offered an HMD and a way to wiggle the user, typically with no design awareness of guest experience, no awareness of hardware durability, and scant attention to content. Many are just like the deceased VR entertainment ideas of the '90s, though system costs are 2 orders of magnitude lower. Why bother to learn from past experience?
Some in the déjà VRu category (Finger Coaster) have survived more than one year and iterated, but the redesigns focus on a less cumbersome/smaller-footprint system, not a better guest experience.
Déjà VRu products make some sales to venues who want new sizzle in their mix, but that's not a market-validating presence. Cost/seat and throughput are not often in the equation, and content is an afterthought.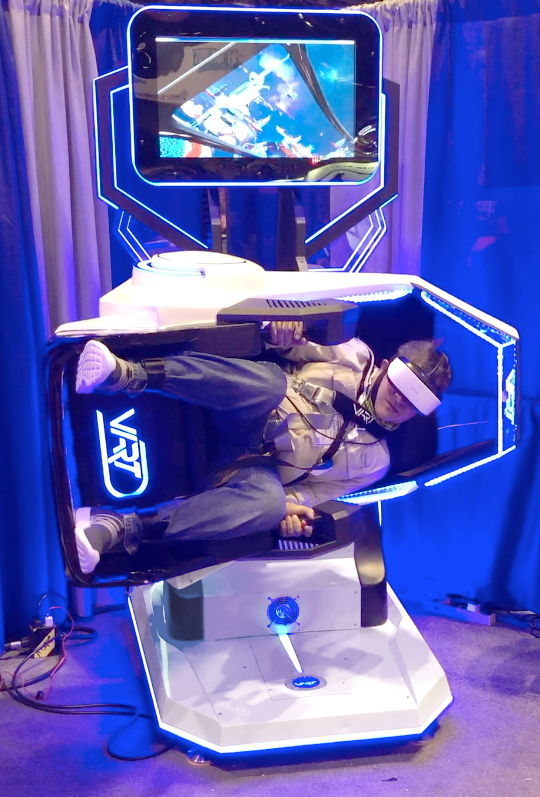 Mode B: Real Product Thinking
Despite the many half-baked attempts, like IMAX VR, there is a market for xR LBE out there, but it's not broad yet. The free-roam backpack VR companies are in the laser tag market niche. The sizzle of virtual theming extends the age demographic upward. It's a local, repeat-customer business that needs low lease costs. Their guest experience is improving, as demonstrated by The VOID's new system design and IP. Just as with most entertainment, such sites need brand-name IP and frequent refreshing to survive. Both come at a licensing cost. We anticipate some increased flexibility in the current movie studio approach to IP licensing for xR use. The studios don't want to reduce their license fees, but also don't want to leave money on the table if a new, viable market emerges, even if it isn't as lucrative as other licenses of the IP. Major game studios can be more flexible, but blockbuster games tend to be long-form shooters, with narrow appeal that doesn't suit family attractions so well. Solutions will emerge, especially non-shooter games and experiences.
VRT 1-seat arcade: teen rotating sideways in a 1-seat motion base.
A Master Class in Product Design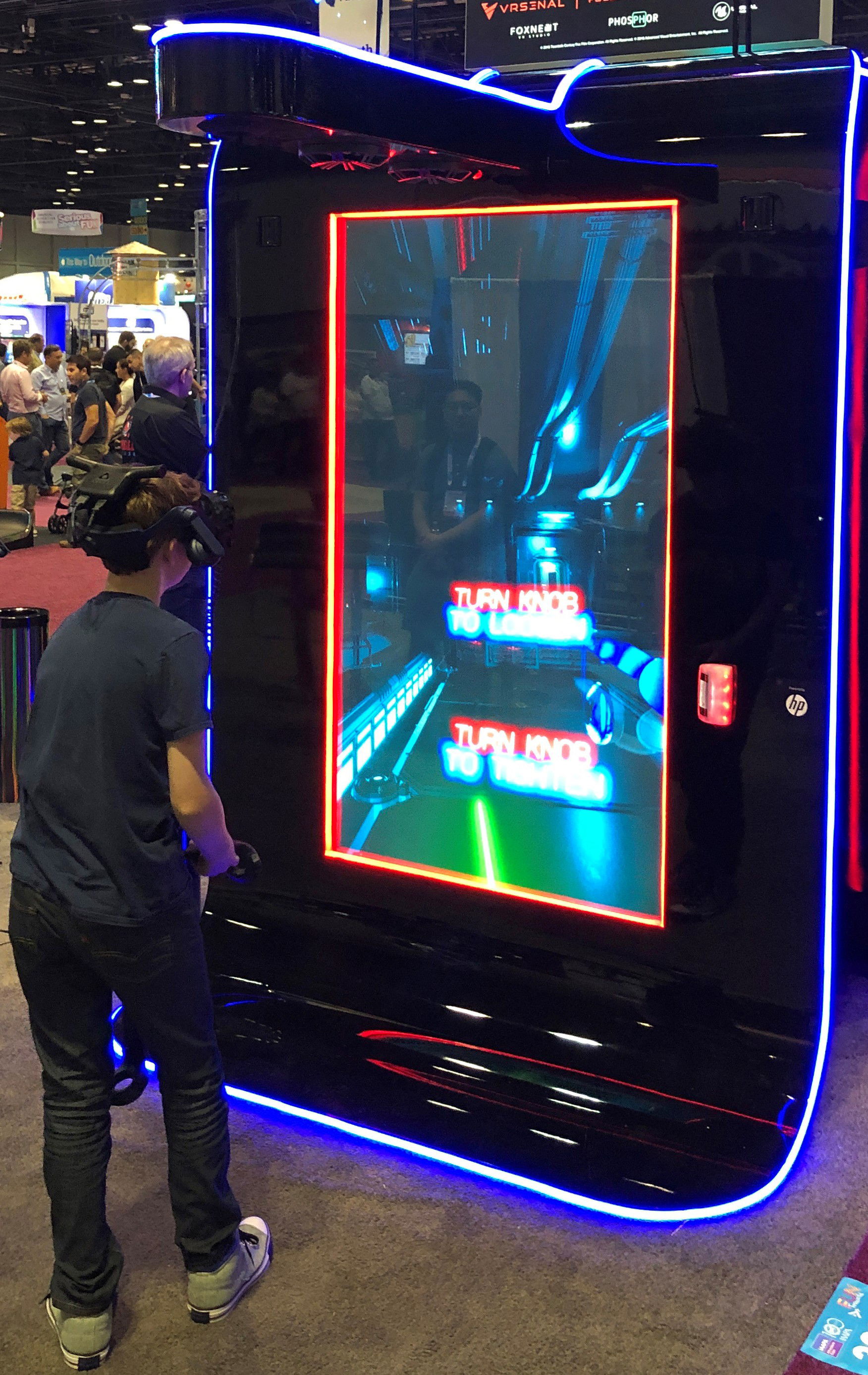 ARsenal's arcade box showing Beat Saber ARsenal's VR arcade system, designed to run Beat Saber (Beat Games, Prague: recently bought by Facebook.) is in a class by itself, as is Beat Saber. It was a startlingly mature product upon release at IAAPA last year, and is even better now. The arcade cabinet system is optimized for simplicity, ease of use, durability, and minimal learning curve – human-centered design that benefits the site operator. The full-body engagement and the exhilaration you feel after slicing colored cubes to an intense music track are unique – a martial arts workout. Guests feel an assertive confidence, ready to go out and accomplish something! Both the way it feels as a single-player game and the internal focus that it evokes echo the user experience of Tetris.
2 xR Steps Forward
I saw two significant steps forward this year:

Significant Step 1: Zero Latency stands out in free-roam VR. Their Gen 2 system is a better-integrated product that's smaller, lighter, better-engineered, and easier to wear than Gen 1. To achieve this they've developed good collaborative relationships with component vendors. Internally, they value an integrated approach to design and engineering, and it shows.
The next major step is lightweight headsets with live, pass-through video, into which dynamic 3D virtual elements are 'keyed.' The elements may be props, characters, avatars or environments in your field of view. They look solid, not semi-transparent. This set of affordances is valuable for out-of-home attractions – almost as valuable as voice.
Combined, the two features are fundamental to profitability. Guests visit in groups and bring the fun in the door with them. Whatever 'Reality' you offer must seamlessly help them share the fun–see and talk with each other–if you expect them to tolerate that thing on their faces.
Yes, that step will take a while.
Back to Zero Latency: their business model is now about scale. They are building a network of client sites, providing (crucial) quality content and refresh, show-control and operations management front end, support/diagnostic back end, and an upgrade roadmap.
VRstudios has been executing some of that model for a while now, including with their client, Dave & Buster's, which installed 4-passenger motionbase VR units in all sites last year. All the HMDs are VIVEs.
The Canadian exhibitor Cineplex recently made an equity investment in VRstudios and plans VR installations at up to 40 of their sites (Playdium, The Rec Room, Junxion) in the next 2 years. Like Dave & Buster's, those big-box FEC sites offer diverse attractions plus food and beverage and merch. They benefit from adding a small-footprint, well-designed VR attraction (with name-brand IP) to the mix of arcade boxes, ski-ball, and bowling. This mixed business model takes some revenue pressure off a VR attraction.
VR as a novelty isn't enough, though. I was told by staff at VR venues in Orlando, "…there are too many sites in town now." The Niantic facility at Pointe Orlando hadn't been open a year when it closed in October, a few steps away from the Zero Latency attraction at Main Event. And ZL had no guests each of the 3 times I visited during IAAPA.
Out-of-home VR attractions have a place, especially at big-box family entertainment centers, but aren't game-changers.
Significant Step 2: DreamCraft Attractions, associated with CAVU Designwerks, is a multifaceted design/creative studio in Victoria, BC. They designed the 2-part (hygienic) VR headsets first used at Busch Gardens Williamsburg's Battle For Eire FX dark ride in the Ireland locale of the park. It's a solid solution to improve throughput and protect the hardware.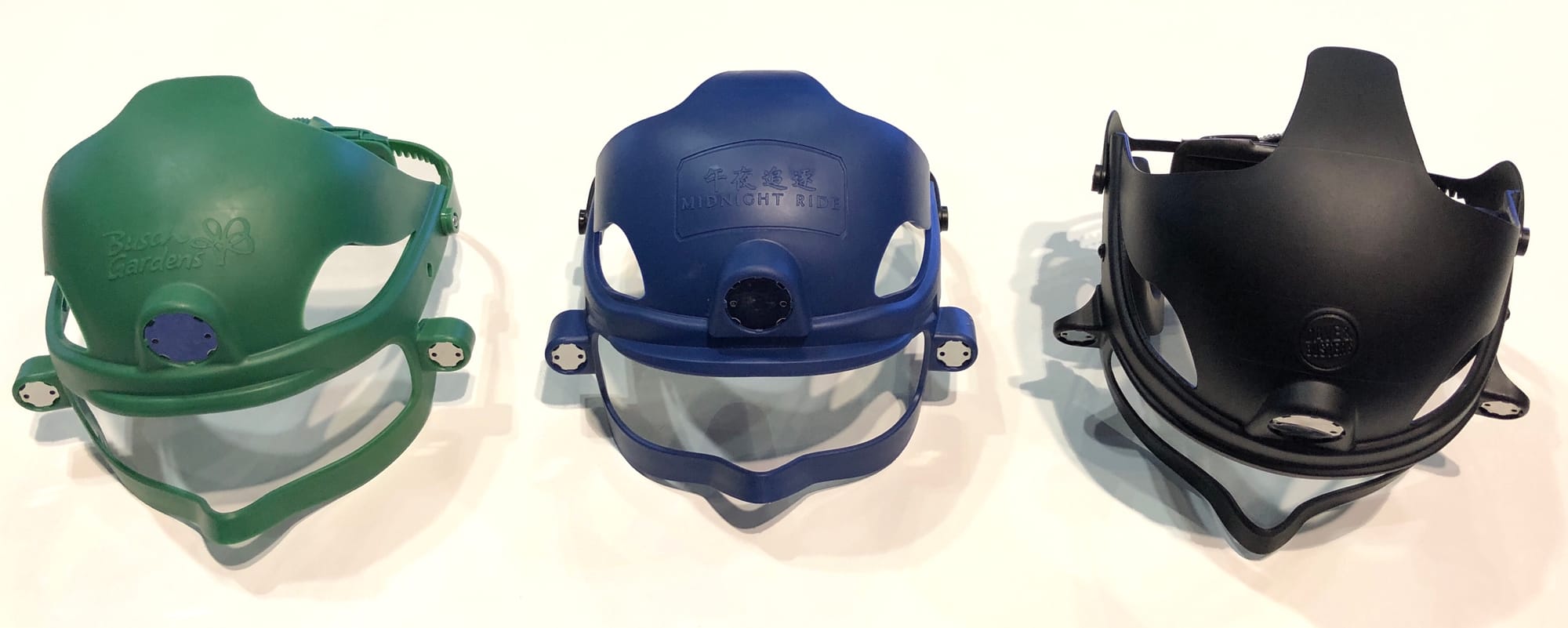 Dreamcraft's modular HMD systems promotes hygiene and fast throughput. The HMD attaches to the front magnetically.
Falcon's Creative Group developed the story, characters, experience design, and visuals for this retrofit of a motionbase attraction, rendering it in full 360 for VR.
The Dave & Buster's logo on the black headset shown at IAAPA indicates D&B is the first customer for DreamCraft's Model 3. D&B saw good customer response to a small 4-seat motionbase attraction with a choice of blockbuster movie IP. Then the need for a theme-park-durable HMD became apparent.
Learning from Your Predecessors
As usual in xR, the 2-part HMD solution has existed for a long time. The first 2-part design was for the Aladdin VR attraction at DisneyQuest in Orlando (1998). It was specifically designed for hygiene and throughput, and to manage the weight of the expensive display hardware.
The best article on HMDs for entertainment ever written is about the Aladdin project. The authors are Disney Imagineers Jon Snoddy, Robert Taylor, Scott Watson, Eric Haseltine, and (first author) the late, extraordinary computer scientist/educator/designer, professor Randy Pausch, who co-founded the Entertainment Technology Center at Carnegie-Mellon. It's a gold mine of best practices in VR, many of which aren't yet commonplace.
You can find their publication, Disney's Aladdin: First Steps Toward Storytelling in Virtual Reality online. It's also in my book: Digital Illusion: Entertaining the Future with High Technology.
DreamCraft's version of a 2-part headgear system is a well-crafted mod of a VIVE; HTC's original warranty applies to the modded HMDs.
This device is Significant Step 2 at IAAPA '19 because of throughput, durability, and hygiene (risk management). That is, it supports an entertainment experience by getting out of the way of the story.
But if you want immersive entertainment in Orlando, it's not about xR. The gold standard is the immersive magic of Pandora, the Potter preshows, Spiderman at Universal, Mickey's PhilharMagic Theater, The Simpsons Ride, and Star Tours. They employ all the craft, nuance, and illusions of theatrical storytelling in every second of the experience. Tech should be invisible in service to the experience; xR entertainment has a long way to go.

Analysis
Standalone free-roam VR is valid with made-for-public-use ZL-type systems, as are the little '1-seat rides' that are becoming a common component of FECs. Both categories will benefit as cost/seat falls, durability improves, and good IP content happens. Shared xR experiences that enable guests to see and hear each other seamlessly will appear more slowly than they should, but will enhance value.
Out-of-home AR is another matter entirely. When the long, difficult equation of aware AR headsets is sufficiently solved, we'll see the promise of xR entertainment delivered. The equation includes: Ubiquitous audio AR; hyperpersonalization; xR games anywhere; persistence and shared views; experiences that learn you; and dynamic visual skins on anything, anytime. It will introduce a new entertainment landscape with broad new revenue opportunities. The new features will also enable realtime context-aware augmentation in work, across myriad professions
With that much awareness comes continuous data-gathering to feed the hyper-personalization functions. The data security issue is massive, and, much as I can't wait for the above functionality, I won't be using it unless I control where that data lives.