by Ben Delaney
Imagination Technologies has announced that it has replaced the multi-year, multi-use license agreement with Apple, first announced on February 6, 2014 (a relationship that ended suddenly in 2017), with a new multi-year license agreement under which Apple has access to a wide range of Imagination's intellectual property in exchange for license fees.
Imagination is a UK-based company that creates silicon and software IP (intellectual property) designed to give its customers an edge in a competitive global technology market. Its graphics, compute, vision & AI, and connectivity technologies enable outstanding PPA (Power, Performance and Area), robust security, fast time-to-market and lower total cost of ownership. Products based on Imagination IP are used by billions of people across the globe in their phones, cars, homes, and workplaces. Imagination Technologies was acquired in 2017 by Canyon Bridge, a global private equity investment fund. This agreement is expected to bring Imagination's high-quality ray-tracing technology to Apple's platforms, greatly increasing the realism of CGI on Apple devices.
Why this matters
Apple is one of the companies most often mentioned when people talk about xR, specifically the eagerly-awaited and as-yet-unannounced Apple smartglasses. However, most of what we know about Apple's efforts come from hiring notices, patent applications, and tiny press announcements like this one.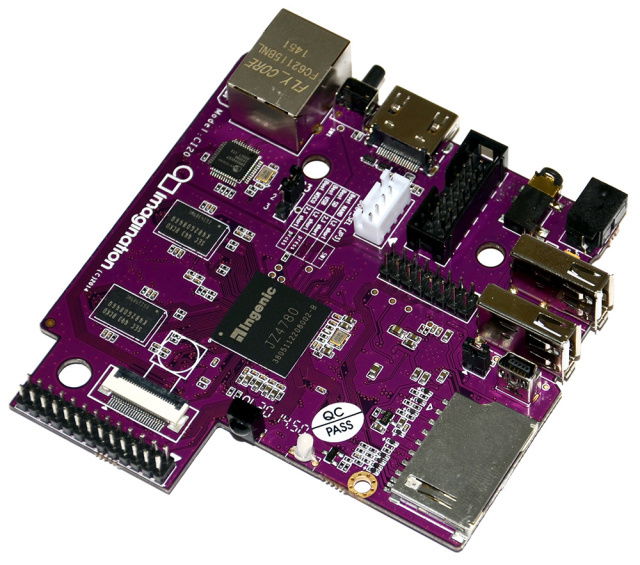 Imagination Technologies' development system board.Imagination Technologies develops GPU chips and systems, and compete directly with NVIDIA. Their IMG A-Series GPU, which they call the "The GPU of Everything," was announced in December 2019, and is intended to bring PC-quality graphics to mobile devices. They are perhaps even more notable for their ray tracing technology. Long a holy grail for CGI developers, real-time ray tracing is among the most significant development in graphics in the last few years. Its mimics the physical behavior of light to add new degrees of realism to CGI, which makes it highly desirable for games and professional visualization applications. Ray tracing is especially important for rendering reflections, transparent materials, shadows, and complex lighting situations realistically.
Only within the last 18 months, high-end, costly desktop graphics boards have become available to PC buyers, bringing hardware-accelerated ray tracing to the market, enabled by Microsoft's DXR extension to its DirectX API. Several gaming titles now offer support for ray tracing features. Imagination Technologies breakthrough promises to bring software-based ray tracing to mobile devices. This will provide a new level of credibility to xR applications running on mobile devices, as well as on HMDs.
In April 2017, Apple released a statement saying, "Apple is of a view that it will no longer use the [Imagination Technologies'] intellectual property in its new products in 15 months to two years time, and as such [they] will not be eligible for royalty payments under the current license and royalty agreement." We assume Apple discovered that Imagination Tech's IP was not as easy to reproduce as expected.
So, while we still don't know what Apple is ultimately bringing to market, we can feel fairly certain that it will provide a higher level of graphics realism that we see now on mobile devices. Other manufacturers and developers will have to keep up. This is going to add value to the end-user's xR experience, and it will start to be seen in the next couple of years.
More info: https://www.imgtec.com