by Ben Delaney
Today's article in The Information (https://www.theinformation.com/articles/dented-reality-magic-leap-sees-slow-sales-steep-losses) describes an unravelling at Magic Leap that certainly is not good news for the company. Combined with August's news that they had collateralized a funding round with their patent portfolio, we regret to inform you that this looks like the beginning of the end, or maybe even the middle of the end, for Magic Leap.
Having raised approximately $2.6 billion, including April's Series D round of $280 million, it seems that Magic Leap may soon join a long list of over-hyped and under-delivering xR companies stretching back to VPL Research's stunning bankruptcy in 1992.
It never fails to amaze that otherwise seemingly insane investors throw huge amounts of money at patently ridiculous xR business ideas. In the case of Magic Leap, there were many problems with the company's plans.
Magic Leap's website, (July 29, 2014) after refocusing from a software development studio, stated (superimposed over a picture of a whale flying over a beach), "most of us know that a world with dragons and unicorns, elves and fairies is just a better world." Well, maybe.
Apparently some people felt there was a huge need for more dragons, unicorns, elves and fairies in the world, because Magic Leap obtained $50 million in their seed and A round funding in 2014. One might think that would buy a lot of mythical creatures. It certainly buys a lot of staffing. By November of 2014, Magic Leaps was advertising 69 open positions on its website. Most of these jobs were for hardware and software engineering. A half dozen were for administrative posts. And five were for game developers. Therein, I believe, lay the problem. Magic Leap sowed the seed of its own demise in 2014.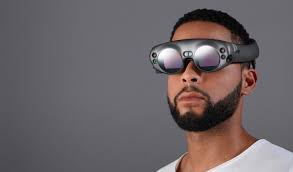 Magic Leap kept the world in suspense for years, until finally releasing the Magic Leap 1 on August 8th, 2018. The design was startling – a steam-punk vision of tight-fitting goggles that would not have seemed out of place aboard Jules Verne's Nautilus. (A leather helmet was not included.) Surrounding the see-through displays were a flock of sensors. OK, a lot of new inventions look odd at first. But the technical specs left a lot to be desired.
The Magic Leap 1 package included the HMD and a hand-held controller, as well the Lightpack, an external "portable processing powerhouse that clips onto the user's pocket for total freedom of movement. With a powerful integrated GPU and CPU generating high-fidelity, quality graphics…". The package was priced at $2295.
Most user felt that the CPU, tracking and sensor array were adequate, but there were many complaints about the visual system. Providing a field of view (FOV) of 40 degrees horizontal, 30 degrees vertical and 50 degrees diagonal in a 4:3 aspect ratio left users wanting more. And by the way, the system did not accommodate eyeglasses, instead offering prescription lens inserts at additional cost.
The included software packed included (from Magic Leap's website):
Lumin OS: The foundational operating system shipping with Magic LeapOne
Helio: a web browser for 3D and spatial web experiences.
Gallery: your home for storing, viewing and sharing spatial media – photos, videos, 3D content.
Screens: all the screens you will ever need to experience live and on-demand cinema, television, sports and news enriched with mixed reality elements.
Social: features in the Lumin platform that support shared experiences in spatial computing, including communicating as avatars and streaming applications in real time.
Dr. Grordbort's Invaders: a hyper-realistic action game in which evil robots have chosen your living room to stage an invasion. Grab your ray gun and save the day in this larger-than-life, immersive video game from Magic Leap and Weta Workshop.
Create: a playful sandbox mixed reality experience where anything's impossible. Turn your house into an undersea world and watch sea turtles and jellyfish glide past, or stage a fight between a knight and a T-Rex on your coffee table. Paint, draw, build, and create in ways never before possible in this magical application developed by Magic Leap Studios.
Tónandi: which translates to sound spirit in Icelandic, an interactive audio-visual exploration of the sounds and spirit of Sigur Rós.
Most noteworthy on that list is the complete lack of any software remotely related to enterprise use. Sure, way back in 2018 it may not have been clear what enterprise users would be looking for, but companies like Daqri, Vuzix, and Microsoft seemed to have found enterprise markets. But Magic Leap seems to have chosen to take a very different path. They gave every indication that they saw their product as a gaming accessory. However, no one there seems to have noticed how few gaming accessories have four-figure price tags.
Magic Leap built a legend on flim-flammery. They teased the public about what they were doing for years. Their most notorious demo, a whale breaching out of the floor of a gym, to the cheers of the surrounding crowd, none of whom were wearing head-mounted displays of any type, was patently fake. When they finally released their product, it underperformed the expectations they themselves had set for it.
According to a report in The Verge, dated 12/6/19, first year sales of the ML1 were approximately 6,000 units. Unfortunately, the company had projected first year sales of 100,000 units. That's a 94% miss on volume and a revenue hit of about $215,730,000.
While we hate to see any xR company go down the drain, and Magic Leap has not folded yet, we see this as yet another precautionary tale for xR developers and investors. And if I may quickly throw in a brief plug, this is why ImmersivEdge Advisors was created, to help well-intentioned people avoid similar pitfalls.
Here are a few of the lessons learned about Magic Leap and other over-hyped xR companies:
If it's too good to be true, it probably is not true.
Gaming is not the holy grail of xR. Especially in-home gaming.
Other people are working on the same ideas. Stay aware of the competition.
Being brilliant at one thing does not guarantee expertise in other things. Like market evaluation.
Investing in a hot startup because others are is not good enough due diligence.
Unless the company's goal is a colony on the moon, it probably doesn't need multiple billions to get a product to market.
Build teams with strength and diversity. Engineers are not enough.
I hope Magic Leap can pull their bacon out of this fire. Even more, I hope developers and investors realize that the next hot thing may be a lot cooler than it looks.